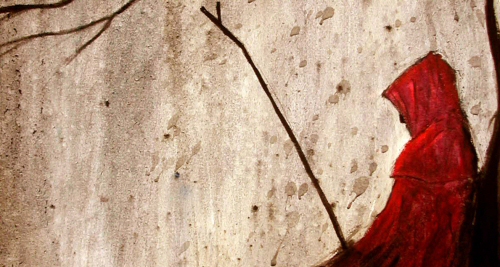 "There are chords in the hearts of the most reckless which cannot be touched without emotion. Even with the utterly lost, to whom life and death are equally jests, there are matters of which no jest can be made. The whole company, indeed, seemed now deeply to feel that in the costume and bearing of the stranger neither wit nor propriety existed. The figure was tall and gaunt, and shrouded from head to foot in the habiliments of the grave. The mask which concealed the visage was made so nearly to resemble the countenance of a stiffened corpse that the closest scrutiny must have had difficulty in detecting the cheat. And yet all this might have been endured, if not approved, by the mad revellers around. But the mummer had gone so far as to assume the type of the Red Death. His vesture was dabbled in blood--and his broad brow, with all the features of the face, was besprinkled with the scarlet horror." -Poe
Well, my continued new years resolution has been failing in getting more blog posts up, but it is about the quality not the quantity right? I hope this one does not disappoint.
With the looming Bilbo's Birthday Bash Lord of the Rings tournament, I have revisited the Red Death.
Fans may remember these guys from last April when I first painted them up for Adepticon. I was under a bit more of a time restraint then and I wanted to go back and really spruce them up. So without further ado I am happy to remix.
It was fun making the darks darker and lights lighter.
The basing will also be added to once the display board gets up to snuff. Excitedly, that is next on the chopping block.
On the left is the updated army, with the right being the first coat basically.
Part II: Blue Steel
I give you, Blue Steel!
This guy is the Elrond conversion. I do not think anyone wakes up and thinks, "Gee I would love to spend $45 on 1 finecast model from Gamesworkshop...."
BLOG POLL: To the listeners, I have a question for you guys; my army list calls for a captain. Which pose do you think should be the captain? Vote now!
Found this on the world wide web, it was appropriately appropriate.