Ruh Roh! Well it has been too long! No excuse here, need to keep the updates coming much faster!
In the mean time, the masons were in town and after some union trouble I got them back on task.
Blasted through my supply of green stuff on all this brick work. The tower still needs fixing up as well as some windows but it is kinda there?
The dried up river bed has not been textured into it yet, that will be coming next when I add the last couple orcs. They're bases will be modeled into that terrain.
All the pink foam work has only had 1 pass with the exacto. Looking to do another fine detail carving and some sanding to spruce it up.
The window eyelets were cut out and will feature some LEDs. All of which will run under the floor to the circuit board and batteries in the tower.
Tales from the crypt. This door "leads" down to the caves below. This will also feature some LED lighting for that extra spooky effect.
Had some commissions that were taking up most of my orc time; but we are back on the FUBAD track now. Got to building some of the hunter orc grunts.
2 box sets end up at 24 total models, so I went with 12 stock poses, and did variations on the 2nd set. The diorama is going to be based on a surprise attack so a couple of the orcs are drawing weapons...
and maybe waking from a nap. While GW's prices suck, the stock poses and dynamic nature of the models made it hard to come up with unique conversions....Will post up the final 6 once they get solidified. Waiting on more green stuff to start gap filling.
Now the piece di resistance, Scooby Doo's arch nemesis; oil mongols dressed up in ghost costumes...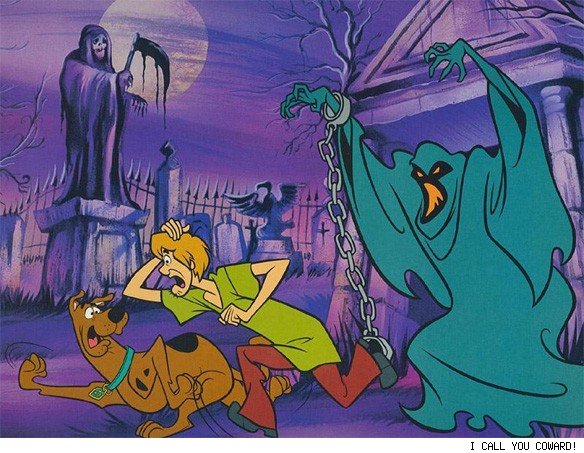 Nope not that one....
There he is!
This will be my shade stand in as per the Hobbit/Lord of the Rings rules set. As always I wanted to stray from the GW stock model. Dug out some old unused models you do not see, got some wrights from a friend and slapped them all together.
Really extended the robes to go for a whaspy whispy look. Going for this ghost cloud look; way to beat me to it Harry Potter.
This bottom guy still needs some work, going to blend up some more robes into the twilight wraith and extend another cloth trail flying out. The goal is to make each of the models blend into 1 greater being, while at the same time having them tearing apart and trying to reach out.